The Gulf Beaches ····· Where Every Day is a Holiday!!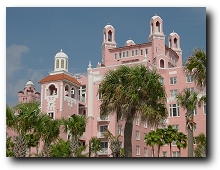 The Gulf Beaches comprise a string of narrow barrier islands in the Gulf of Mexico created by the timeless surge of winds and waves. Unlike the true Florida Keys from Key Largo to Key West that are exposed tops of dead coral reefs, St. Petersburg's Gulf Beaches are marl, shell, and sand, compacted over the centuries and topped by a veneer of soil and plant life.
Separating the islands from the Pinellas peninsula, which St. Petersburg dominates, is a shallow body of water called Boca Ciega Bay. the "Boca Ciega" name pops up recurrently. Literally, "boca" is Spanish for "mouth" while "ciega" means "blind". The way it is used locally, however, the name probably means "obstructed". Sixteen century Spaniards, seeking a way to sail into the bay, may have found entry impassable because of its shallowness.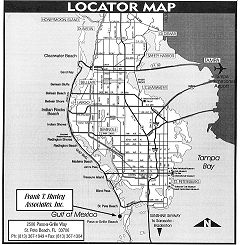 Technically, the beaches begin where the Gulf and Tampa Bay meet at Egmont Key, the check-in-and-check-out point for big ships. This island is in another county -- Hillsborough -- and government-owned except for the Tampa Bay pilot station. From Egmont's lighthouse, the island extend north approximately 20 nautical miles toward Little Pass and the island of Clearwater Beach. The main component parts, south to north, are three in number -- Long Key, Treasure Island and Sand Key.
Long Key and St. Petersburg Beach are one and the same as that city now occupies the entire island . Until 1957, four incorporated towns -- Pass-a-Grille Beach, Don Ce-Sar Place, Belle Vista Beach, and St. Petersburg Beach -- shared Long Key with several unincorporated enclaves.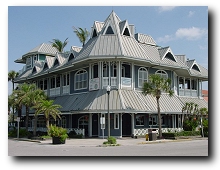 Two years before the municipalities of Long Key merged, consolidation took place on Treasure Island, the middle and smallest of the three islands. Once there were four towns, Sunset Beach, Boca Ciega City, Treasure Island and Sunshine Beach.
Longest of all is Sand Key, occasionally called Madeira Island. It consists of eight municipalities known as Madeira Beach, Redington Beach, North Redington Beach, Redington Shores, Indian Shores (until August 1973, Indian Rocks Beach South Shores), Indian Rocks Beach, Belleair Shores and Belleair Beach.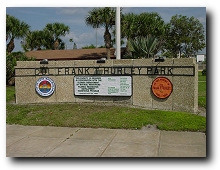 Between each key or island is a "pass", defined by Webster as a "swift flowing body of water". There are four such passes.
"Pass-a-Grille" refers not only to the old town of that name but also to the pass at the southern end of Long Key that gave the town its name in the 1890's. To heighten confusion, both are sometimes referred to as "The Pass".
Blind Pass, which the Spaniards knew as Boca Ciega Pass, separates St. Petersburg Beach and Treasure Island.
A fabled spot for bridge anglers is John's Pass, between Treasure Island and Sand Key. From the bridge catwalk, from boats, from docks, and from seawalls devout anglers engage in their favorite pastime day and night, often oblivious to the elements.
Finally, at the extreme north end of Sand Key between Belleair Beach and Clearwater Beach, there is Little Pass.
One road extending from 31st Avenue in St. Petersburg Beach (south of 31st Avenue to the Pass it is Pass-a-Grille Way) and two bridges tie the ten beach communities to each other. Each of the ten has its own character and charm, but each is an integral part of the Gulf Beach mosaic.