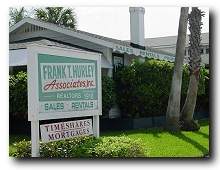 Real Estate is a people business, and service to people is the philosophy upon which Frank T. Hurley Associates, Inc. was founded in 1948.
Home Buying is usually the biggest investment most people make during a lifetime. Without people who care, it can be an over-whelming experience.
Our associates are special real estate professionals with a sense of responsibility. they use their experience and knowledge of real estate, together with their interpersonal skills and training in the latest technologies, to coordinate the mutual desires of home buyers and sellers, landlords and renters.
Membership in the St. Petersburg Suncoast Association of Realtors' multiple listing service (MLS) keeps associates informed of properties for sale throughout the beaches as well as metropolitan St. Petersburg. Hurley Associates, incidentally, was a charter member of the area's first MLS system.
Associates, moreover, have access to the latest trends and demands of the real estate market through membership in the Florida Association of Realtors, National Association of Realtors, Florida Chamber of Commerce, Gulf Beaches of Tampa Bay Chamber of Commerce and through wide participation in community affairs. Taking an active role in community affairs, local and country, is a Hurley Associates tradition.
A unique source of prospects for our sales department is our Leasing/Property Management Division, the beaches' oldest, one of the largest and certainly the most diversified. Since every renter, whether vacationer or yearly lessee, is a potential home buyer, we make them aware of our sales offerings.
Experience, reliability and a knowledge of our community gathered over the years -- that is what we offer our valued customers, whether home buyer or renter. And that brings results...
---
2506 Pass-a-Grille Way
St. Pete Beach, FL 33706
Phone: 727-367-1949
Fax: 727-367-1304